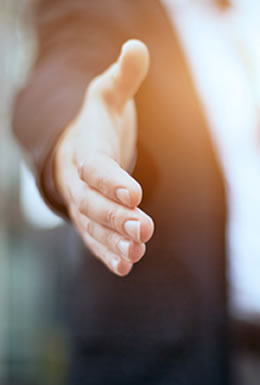 Established in 2002, Recruitment Solutions (Folkestone) Ltd is a successful Generalist recruitment business with extensive in depth knowledge and understanding of the regional economy.
We work in partnership with clients and candidates alike in order to achieve successful recruitment solutions across the board. Our dedicated service delivery and industry expertise guarantees a commitment to ethical standards of recruitment and by managing client and candidate expectations, we can build mutually beneficial partnerships.
Members of the Recruitment & Employment Confederation (REC), Kent Channel Chamber and Federation of Small Businesses (FSB), we offer a positive, no nonsense and uncomplicated approach to recruitment - both from a candidate and client perspective.
We feel this ethos, together with our professional, knowledgeable and approachable team, is key to our success!
Meet The Team
Joe Brady - Director
Contact:
joe@rsfl.co.uk
Tel:
01303 220844
Owner/Manager/Recruiter, Joe has been in recruitment since 2002 and operates a highly successful IT Rec2Rec sector covering predominantly London and the Home Counties. Joe has extensive knowledge of the industry and has a broad client base, including a number of major blue chip clients
Heather Morgan - Director
Contact:
heather@rsfl.co.uk
Tel:
01303 220844
Owner/Manager/Recruiter, Heather comes from a strong sales background and has been in recruitment since 2000. With a wealth of local knowledge, a proven track record in establishing long term client relationships and a Generalist Recruiter, she not only handles temporary, permanent and contract vacancies at all levels, she specialises in Engineering, HR, Commercial, Manufacturing / FMCG, Insurance and Public Sector recruitment
Claire Pitchford - Principal Consultant
Contact: claire@rsfl.co.uk Tel: 01303 220844
Linked in: https://uk.linkedin.com/in/cpitchford
Claire has been with Recruitment Solutions (Folkestone) Ltd since 2008 as a Senior Recruitment Consultant, having worked for 2 national agencies for 4 years prior to her joining us in 2008. A Generalist Senior Recruiter, handling temporary, permanent and contract vacancies. Strong recognition within the industry for her expertise.
Vicki Rice - Senior Recruitment Consultant
Contact: vicki@rsfl.co.uk Tel: 01303 220844
Vicki has over 5 years' experience as a generalist recruiter, working across a variety of sectors placing candidates in both temporary and permanent roles. Whether you need adhoc staff, want to introduce staff on a temp2perm basis, or are looking for your next permanent hire, Vicki is able to draw from her experience on previous placements to source and introduce quality candidates. Vicki prides herself on building strong relationships with both her clients and candidates to ensure the best possible fit not only in terms of skill sets required, but to fully understand company cultures, motivators, and the general bigger picture.
Andrew Milford - Senior Recruitment Consultant
Contact: andrew@rsfl.co.uk Tel: 01303 220844
Andrew has over 20 years IT recruitment experience, working in both the permanent and contract markets. His primary focus during this time has been as a Business Intelligence Specialist (IBM Cognos/ Power BI, Tableau, Qlikview etc) which has morphed over the years into Business / Data Analytics and all things linked to Client data transformation. Please feel free to get in touch to discuss anything Data related.
Trish Leonard - Financial Controller
Contact:
trish@rsfl.co.uk
Tel:
01303 220844
Testimonials
Having been at Jackson's for 13 years I have seen a fair few agencies supply various members of staff to Jackson's Fencing. I have been utilising RSFL for the 4 years now. We have found the level of service to be of a very high qu...

Caroline

I wanted to say a BIG thank you for your service, which I think is above excellent. You have been fantastic from the word go, giving me advice, explaining the job role to me and giving me a really personal service that is really a...

Debi Knips

Our company have been using Recruitment Solutions for a long time now. When I took over in my position 2 years ago. I had lot of dealing with Heather Morgan. She understands the requirements of our office and type of person needed...

PLEXUS LAW

Heather and her team have supplied Shepway District Council with grounds maintenance staff for around 6 years, everything from tractor drivers to gardeners to toilet cleaners. We have always found the company to be extremely profe...

Grounds Maintenance Manager

I just want to say thank you for giving me this amazing opportunity in something I thought I gave up in. Lab work has always been a dream of mine, and I thought that dream would never happen. Thank you for believing in the person ...

Ella S

Thank you for all your hard work and the candidates you have sent over during this last recruitment intake. We are so pleased with everyone we have taken on and they have all settled in really well.

Beckie Jones – Management Assistant

Thank you so much for all your help, you and the agency have made this such an easy process and I'm really grateful.

Hannah Smith-Fawcett, Claims Assistant - Pet Team

I believe you found me my perfect position.

Adam Gardiner - Supply Planner

I will always be thankful to Daniella for finding this perfect team for me. Tina is one of the best managers I have ever worked with. Daniella and Trish both have always answered my queries and made sure that I was always provided...

Diya - Medical Receptionist

Heather and Kim were professional, reliable and efficient in finding me my new job. They kept in touch regularly, to discuss progress and updates. This person centred approach enabled me to build up trust with the staff knowing th...

Yasmin - Teacher

previous
next