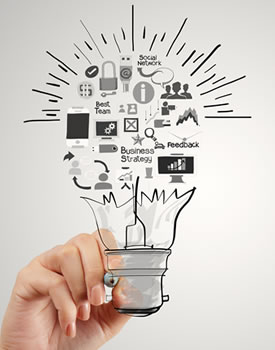 You must remember that whilst looking for a job, your CV is your most important selling tool. Prospective employers will use it to decide if they want to see you for interview – or not! Content is important but presentation is equally important.
Invest some time in producing a professional CV and you will hopefully reap the rewards.
Content and Presentation
Take into account that Recruiters are busy, so limit your CV to a maximum of two sides of A4 where possible unless you are applying for a Technical or Management role for example where a lengthier CV may be appropriate.
You can obtain additional information in relation to CV style quite easily from the internet. You should aim to place all the most important information (personal details, education, current job, relevant skills) on the first page.
Key Points:
Keep information factual and to the point.
You could entertain preparing a short and concise profile, introducing yourself and point out your experience relevant to the position you are applying for.
Ensure you include accurate dates of employment defining your work history(start at the most recent date and work your way back chronologically).
Use bullet points where possible – this makes the CV easier on the eye.
Give examples where you can to describe your skills and experience: include a number of bullet points and include specific skills and experience relevant to you and the position you are applying for. These could be under a sub heading Key Skills.
Be honest – you'll have to talk through your CV at the interview.
Keep the layout clean and organised.
Always double check for spelling and grammatical errors!
Include your hobbies and interests.
It is not necessary to include any personal details about your immediate family.
Testimonials
Having been at Jackson's for 13 years I have seen a fair few agencies supply various members of staff to Jackson's Fencing. I have been utilising RSFL for the 4 years now. We have found the level of service to be of a very high qu...

Caroline

I wanted to say a BIG thank you for your service, which I think is above excellent. You have been fantastic from the word go, giving me advice, explaining the job role to me and giving me a really personal service that is really a...

Debi Knips

Our company have been using Recruitment Solutions for a long time now. When I took over in my position 2 years ago. I had lot of dealing with Heather Morgan. She understands the requirements of our office and type of person needed...

PLEXUS LAW

Heather and her team have supplied Shepway District Council with grounds maintenance staff for around 6 years, everything from tractor drivers to gardeners to toilet cleaners. We have always found the company to be extremely profe...

Grounds Maintenance Manager

I just want to say thank you for giving me this amazing opportunity in something I thought I gave up in. Lab work has always been a dream of mine, and I thought that dream would never happen. Thank you for believing in the person ...

Ella S

Thank you for all your hard work and the candidates you have sent over during this last recruitment intake. We are so pleased with everyone we have taken on and they have all settled in really well.

Beckie Jones – Management Assistant

Thank you so much for all your help, you and the agency have made this such an easy process and I'm really grateful.

Hannah Smith-Fawcett, Claims Assistant - Pet Team

I believe you found me my perfect position.

Adam Gardiner - Supply Planner

I will always be thankful to Daniella for finding this perfect team for me. Tina is one of the best managers I have ever worked with. Daniella and Trish both have always answered my queries and made sure that I was always provided...

Diya - Medical Receptionist

Heather and Kim were professional, reliable and efficient in finding me my new job. They kept in touch regularly, to discuss progress and updates. This person centred approach enabled me to build up trust with the staff knowing th...

Yasmin - Teacher

previous
next