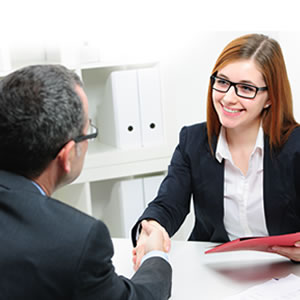 INTERVIEWING TECHNIQUES
When you have been invited for interview, there are many things that you can do to improve your chances of success. Research indicates that the majority of recruitment decisions are made in the first few minutes and that the rest of the interview is spent gathering information to reinforce this impression, be it positive or negative. Use this to your advantage. We have prepared the following as a guide to the interview process. Apologies if some parts may seem a little basic.
The main aim is to show the employer that you are relaxed and confident and the best way to ensure this is through preparation.
RESEARCH
Source information from the Internet or alternatively, ask your consultant for advice. Mention to the employer that you have checked out their website or alternative literature. Your aim is to use the knowledge you have gained to demonstrate a match between yourself and the needs of the employer.
PERSONAL APPEARANCE
Within the first two minutes of the interview, the interviewer will already have made a judgment of you – make it a positive one.
Remember you are attending a formal interview and wear traditional rather than fashionable clothes. Smart casual is not acceptable.
BODY LANGUAGE
This contributes significantly to the credibility of what people say and so it is very important to get it right.
Shake hands firmly, make eye contact and appear enthusiastic, friendly and confident and Smile!
PRACTICALITIES
Check the date, time and venue of interview. Be aware who will be conducting the interview.
Don't be late, allow for traffic hold-ups and time to find a parking space.
Have the phone number of the company with you. If there is an unavoidable delay, phone the company or your consultant, and explain the situation.
Make sure you know your CV inside out, including dates and qualifications.
THE INTERVIEW
Preliminary points to remember
You only get an interview if the employer believes you can do the job and, to reach the interview stage, you have already been selected from a considerable number of other candidates.
Look at the role that you are applying for and list all the technical skills and personal traits that are vital to the job. Be able to pick out specific examples from your past that highlight these qualities. Paint a vivid picture for the interviewer by giving him specifics rather than generalisations, as this will prove to the interviewer that you have what it takes to do the job well.
Be prepared to demonstrate that you will go the extra mile in order to succeed. Have examples ready of when you went beyond the call of duty in order to ensure the success of a project or task.
PRIOR TO THE INTERVIEW
Research as much as you can about the company, including looking at their website, reading media articles and speaking with anyone you know who has worked there.
Plan your route, ensure you know exactly where the interview is being held and allow sufficient time to get there.
Read through your CV ensuring that you can supply more information if the interviewer needs it.
Where a job description has been supplied ensure you have read it carefully. Have the confidence that you are technically qualified to do the job. Ensure that you can meet the criteria, and have examples from previous roles that prove this.
Try to anticipate questions you may be asked and have answers prepared in advanced by practicing with someone before your interview.
Turn off your mobile phone before the interview.
Do's and Don'ts at an interview:
Do:
Answer the question that is asked and do not volunteer irrelevant information.
Keep your answers concise and concentrate on the facts not opinions.
Speak clearly and confidently and do not allow yourself to be discouraged.
Constantly remind yourself that you have something to sell and focus on how you can make a positive contribution in the role.
Don't:
Lie, pretend or give evasive answers.
Lose your temper, get flustered or panic.
Criticise your current or previous employers.
Common Questions:
Below are a selection of questions that may come up at interview. Better to be over-prepared!
What did you dislike about your old job?
Why are you leaving your present job?
How much do you know about our organisation?
What positions of responsibility have you held?
Why should we choose you/What do you have to offer us?
What direction do you see your career taking in 5 years time?
A good response is to throw a question back: What opportunities are there within this company? If possible, blend this answer with your prepared answer.
What is the biggest challenge you have faced?
How would you describe yourself?
i.e. loyal, supportive, positive
Prior to interview think of three strengths relevant to the role and mix in behaviour, knowledge and skills i.e. if accuracy is an important part of role then list "eye for detail".
What is your greatest weakness?
Keep your answer short and end on a positive note if possible.
Try to show that you are self-motivating. "Money" is not the best response!
What is the most difficult situation you have dealt with?
Give me examples of when you have had to work under pressure?
Respond to any negative questions by turning them into positive responses i.e.
You seem to have had a number of jobs in a very short space of time?
"I wanted to experience as many different working environments as possible, before deciding which one was right for me"
At the end of the interview:
Prepare some well-informed questions to ask the interviewer. (Preferably not hours, salary or holidays). Do not ask questions that you should already know the answer to, such as "what do the company do?" The following are questions you might ask:
Why is this position available?
What are the major tasks and responsibilities?
What kind of training is provided?
What is the growth potential for this position in a few years from now?
When is a decision likely to be made regarding the position?
If you feel the interview went well, ask when and if second interviews will take place.
Thank the interviewer for their time, smile and shake hands firmly.Join in if the interviewer starts chatting. This may still be part of the interview and it is your opportunity to let your personality shine & remember to always smile!
Testimonials
Having been at Jackson's for 13 years I have seen a fair few agencies supply various members of staff to Jackson's Fencing. I have been utilising RSFL for the 4 years now. We have found the level of service to be of a very high qu...

Caroline

I wanted to say a BIG thank you for your service, which I think is above excellent. You have been fantastic from the word go, giving me advice, explaining the job role to me and giving me a really personal service that is really a...

Debi Knips

Our company have been using Recruitment Solutions for a long time now. When I took over in my position 2 years ago. I had lot of dealing with Heather Morgan. She understands the requirements of our office and type of person needed...

PLEXUS LAW

Heather and her team have supplied Shepway District Council with grounds maintenance staff for around 6 years, everything from tractor drivers to gardeners to toilet cleaners. We have always found the company to be extremely profe...

Grounds Maintenance Manager

I just want to say thank you for giving me this amazing opportunity in something I thought I gave up in. Lab work has always been a dream of mine, and I thought that dream would never happen. Thank you for believing in the person ...

Ella S

Thank you for all your hard work and the candidates you have sent over during this last recruitment intake. We are so pleased with everyone we have taken on and they have all settled in really well.

Beckie Jones – Management Assistant

Thank you so much for all your help, you and the agency have made this such an easy process and I'm really grateful.

Hannah Smith-Fawcett, Claims Assistant - Pet Team

I believe you found me my perfect position.

Adam Gardiner - Supply Planner

I will always be thankful to Daniella for finding this perfect team for me. Tina is one of the best managers I have ever worked with. Daniella and Trish both have always answered my queries and made sure that I was always provided...

Diya - Medical Receptionist

Heather and Kim were professional, reliable and efficient in finding me my new job. They kept in touch regularly, to discuss progress and updates. This person centred approach enabled me to build up trust with the staff knowing th...

Yasmin - Teacher

previous
next